Sandy Skoglund is a photographer and an installation artist. I would hope you all know what a photographer is, but maybe you don't know what an installation artist is. An installation artist is someone who basically creates large art projects that encompass a room or the room itself can be considered art. These projects are usually very large and take several months to create and sometimes it takes that long just to set them up.
Sandy has combined both of her art forms to create installation pieces that she then photographs into artwork that can be sold. She occasionally adds real people to her created people for her photo shoots. She also loves to use bright colors with dark colors and edible items in some of her work.
This one is called
Radioactive Cats
. The man and the woman are real people, but the cats have all been sculpted and painted that bright green color.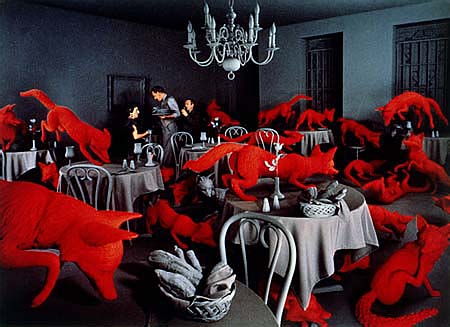 Fox Games
The Cocktail party
Body Limits
Breathin Glass
Raining popcorn
A Breeze at work




So which work is your favorite? What do you like about her work and what do you find different or unique? If you could do a project like this, what exactly would you do?